CHAD O CHEF GAS BRAAIS
Chad-O-Chef committed to producing quality stainless steel gas braais to fit all your cooking requirements.
Not only is it safe, but it's convenient and versatile too!
SIZZLER MOBILE GAS BRAAI
[WD_Button id=1546]
Available in a 4Burner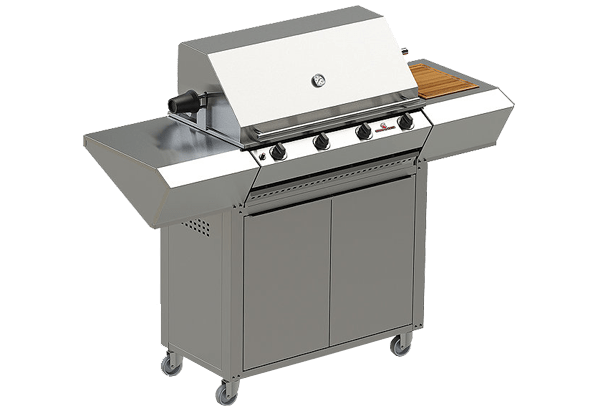 The Sizzler Mobile Braai is a free standing Gas braai, capable of being wheeled around your Entertainment area,
when you have little available space for a built-In option.
You can also upgrade an existing Built-In Sizzler, by purchasing just the wheeled cabinet, and retrofitting your sizzler on top.
The Sizzler Braai accompanied with the Wheeled Cabinet, comes complete with Hot Rocks, as well as a dust cover for outdoor applications.
 STAINLESS STEEL HOB GRILLES

[WD_Button id=1546]
Available in 3Burner and 4Burner
Are you looking for a streamlined grill that blends in with your existing entertainment area?
Then the Chad-O-Chef Hob grill is precisely what you need.
This unit is dropped into your counter top for a sleek, stylish look.
A hinged stainless steel cover hides your grill away when your done.
Enjoy that great steakhouse taste.
This unit requires sufficient ventilation into the cabinet housing the unit.
For Indoor use please also see our Extractor Systems.
3 Year Guarantee on all working parts.
 STAINLESS STEEL SIZZLER GAS GRILLES

[WD_Button id=1546]
Available in 3Burner, 4Burner, 5Burner and 6Burner
The Sizzler Gas Braai can be used as a free standing or built-in grill.
Transform your built-in Charcoal braai to gas, or a combination of both.
This grill comes complete with Hot Rocks, a dust cover and is ready to connect to a gas bottle.
All accessories are available for this model.
Hybrid Braai
[WD_Button id=1546]
Available in 3Burner & 4Burner
A first of its kind in South Africa, the Chad-O-Chef Hybrid Braai offers a 4-in-1 cooking experience.
Combining state of the art Gas burner design with a revolutionary Ember Drawer system.
This allows you the option of wood, charcoal, gas or smoker chips.
Add that one of a kind bushveld flavour to any braai experience.
Once fired up, the Gas burners ignite wood and charcoal with-in minutes.
This means that you don't have to wait as long before you can dig into that juicy steak.
•    Braai on Wood, Charcoal, Gas and/or Smoker Chips within minutes.
•    A sturdy Stainless Steel design adds peace of mind for outdoor environment.
•    We offer a 3 year guarantee on all of our braai's.
•    Use less wood or charcoal and still get more heat with the revolutionary Ember Drawer design.
•    Service parts available for life.
•    Variable heat zones through Gas burners.